Baked
BreadBread is an artisan bakery making sourdough loaves and other complementary savoury and sweet products with naturally fermented dough from high-grade flour.
We follow the principles of the 'thoughtful kitchen' – harnessing the natural and fresh, working with the seasons and minimising waste.
That's then mixed with a sprinkle of anarchy. We break things, shake things and generally make a noise in order to bake as close to perfection as it is possible to get.
In our world everything is about bread. Everything is baked, and almost everything is about sourdough. Good bread (BreadBread!) is part of our origins and integral to our future. Everything else is just waiting.
History
Bridget Hugo
co-founded Franco Manca pizzerias in 2008 in Brixton's Market Row. She then founded Bread Bread Bakery in 2010 to further explore the wonders that come with artisan bread baking using sourdough cultures. Her chief role is as Creative Director and her commitments are to food quality, sustainable futures and personal health. As a natural cook and baker, she continues to invest in and support other food and hospitality-oriented projects internationally, including in Sicily and Mexico.
Andreas Bajohra, with a background in film production and having already been a bakery and cafe owner, joined Bridget in 2016 wanting to contribute to the development of a company he felt was unique in its associations and potential. He has gone on to successfully build a lively and diverse team of skilled enthusiasts to share in BreadBread's mission. As Managing Director, Andreas believes that a great product should be within reach of as many folks as possible, and he continues to engineer this in resourceful ways. He has created innovative opportunities for the business in and around London and aims to open Bread Bread cafes in 2023.
Chloe Yorke and Rafael Hidalgo are two further key players who have helped to expand the business. Together they have ensured that Bread Bread has one of the best reputations in the game for providing efficient and reliable ordering and delivery service.
David Nyamekye was promoted to the position of Head Baker at Bread Bread in 2021, a couple of years after joining us. His baking skills, ecumenical leadership, humour and kindness have endeared him to the entire team.
Origins
"Travelling to Napoli and eating at L'Antica Pizzeria Da Michele back in 2005 kick started my interest in all things sourdough and pizza. Naples exemplifies the chaos and exuberance of the southern Italian spirit, and the modest downtown pizzeria is a singular experience of freshest-is-best cooking and no-frills look & feel.
South of the Bay of Naples, the famous Amalfi coast lies in wait, with its picture postcard towns holding the keys that can unlock the most colourful sun and sea-drenched dreams of la bella vita. As the original home of Giuseppe Mascoli, my companion and business partner, the town of Positano provided another awakening.
The bonhomie and open-heartedness of beach-hardy fishermen and shoemakers, who rubbed shoulders with opera singers, artists and film directors, showed the extent to which the creative arts can be the ultimate social levellers – and how a shared passion for food provides a point for diverse human contact. As I developed my understanding and taste for the culture I became increasingly passionate about natural ingredients and their provenance.
With Giuseppe we explored their origins in depth, through visits to vineyards and orchards, bakeries and dairies, mills and farm co-operatives, making many associations with producers along the way. The journey, recipes and discoveries continue.
Bridget Hugo.
We do
wholesale & retail
…savoury & sweet
We supply and deliver. Contact us.
If you'd like our products to take home visit our markets.
To see our product list click here.
Sourdough
Fermented products are not only natural and delicious, but full of antioxidants and great for the body. For us, sourdough also represents a counterpoint to industrial farming and mass consumption.
Sourdough is an age-old technique, connected to slow living and sustainable food practices. It is a principle, as much as a product.
We grow our range organically, accumulating lessons as we go, by working with various bakers versed in authentic French, Hungarian, German and Austrian styles.
Ingredients
Wheat is the most important crop in the world, and we source ours in the UK where it is both abundant and of particularly high quality.
We use a mixture of flours, mainly organic or from small production mills in order to help preserve the agricultural landscape. We work with millers who use stone to grind their flour. This retains the natural goodness in the grains.
Our butter is cultured, whilst our sugar is unrefined cane and our salt is the natural 'grey' variety from the Guerande salt marshes in Brittany. We source olives, fruit, nuts, seeds and chocolate that are of the highest quality.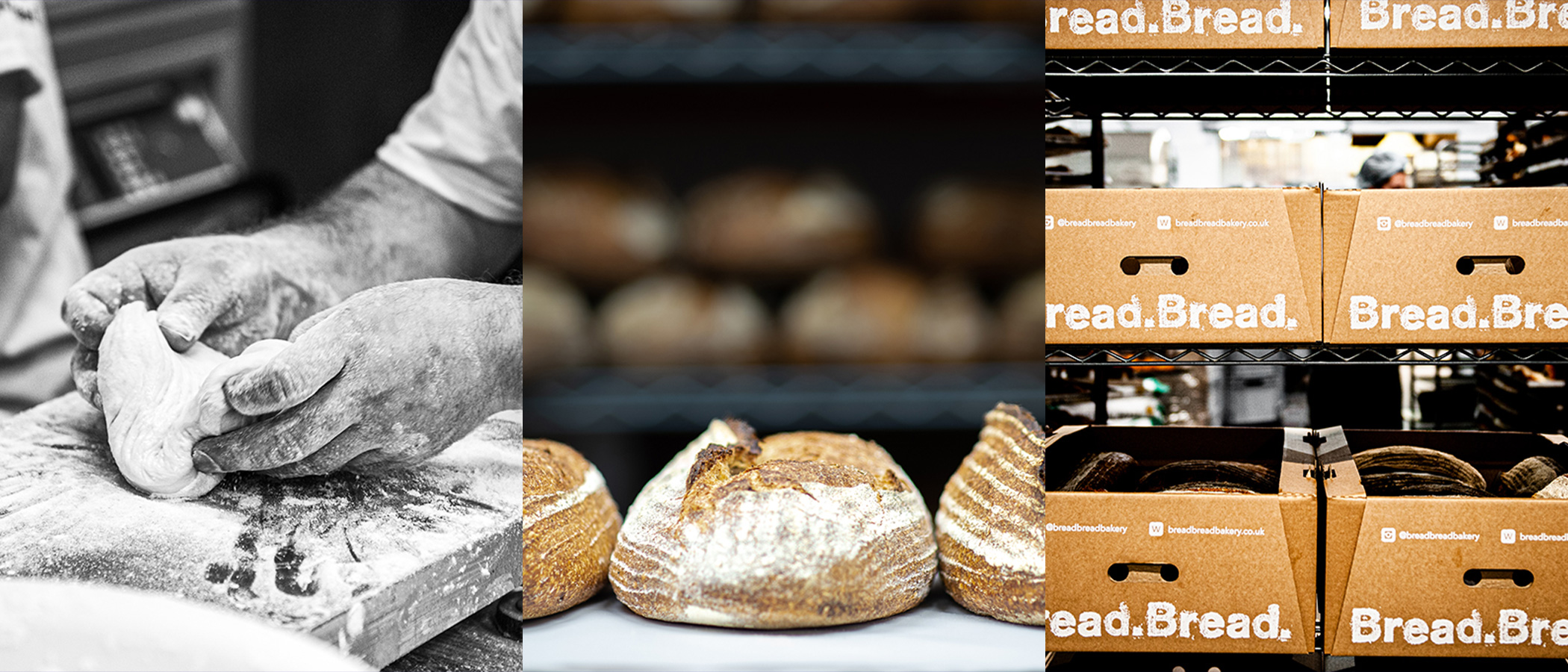 People
BreadBread consists of a happy and skilled team of bakers, chefs, pastry makers, packers, drivers and sellers.
We all share the belief that artisan baking represents a commitment to both food quality and personal health. We love what we do, we're passionate about it and we always look for people who share these values when we add to our team.
Originally inspired by the bakers of Napoli we explore far and wide for interesting and unusal tastes and inspiration from other countries and continents. This is reflected by the international nature of our team.
Join Us
If you'd like to see our roles available or to contact us with a view to joining the team please click below.
We're an artisan bakery located in South East London, founded in 2010, making exceptional products with the highest quality ingredients. We have big plans for the future and we're always on the look-out for the right sort of people to join us.
Farmer's Markets
The weekend mooch is a great way to get out there and find the best selection of fresh ingredients from local suppliers and artisans. Our market stalls are usually manned by one of our bakers, so you also get to meet the producers.
BALHAM FARMERS MARKET
9AM-1PM
HENRY CAVENDISH PRIMARY SCHOOL
HYDETHORPE ROAD
LONDON SW12 0JA
CRYSTAL PALACE MARKET
10AM-3PM
HAYNES LANE
LONDON SE19 3AP
PIMLICO FARMERS MARKET
9AM-2PM
ORANGE SQUARE, PIMLICO
LONDON SW1W 8UT
TWICKENHAM FARMERS MARKET
9AM-1PM
HOLLY ROAD CAR PARK
LONDON TW1 4HF
WIMBLEDON FARMERS MARKET
9AM-1PM
WIMBLEDON PARK PRIMARY SCHOOL
HAVANA ROAD
LONDON SW19 8EJ
Sign up for exclusive offers straight to your inbox
Never miss an update by signing up to our newsletter
Everything else is just waiting
Contact
We would love to hear from you. In order to send your enquiry to the right person, please complete the form below.
We are a wholesale bakery but individual customers can order box collections.